As usual, the Affiliate Summit conference comes with a few parties open to all, as long as you RSVP. Note there are a few other private invite-only events but we will not be listing those here.
The Share A Sale party is free to all ASE attendees, but you must bring your badge for entry and RSVP!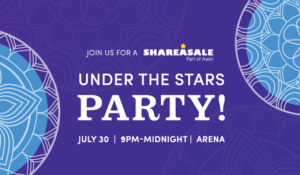 DATE: Sunday, July 30
TIME: 9pm – midnight
WHERE: ARENA Event Space
WHO:

  Any ASE attendee – RSVP only!

RSVP here:  http://blog.shareasale.com/2017/06/16/shareasale-party-at-affiliate-summit-east-2017/

The Affiliate Ball each time features top rap talent and this party is no exception with rap and movie star Ludacris performing!
Date: Monday July 31st
VIP doors: 8:30 pm – 10:00 pm 
Regular pass holders – 10:00 pm – whenever
Location: TBA
RSVP here: https://affiliateball.com/#register
Lastly, if you are looking for a strong CPA network with great offers check out http://intergmedia.com/affiliate-signup/